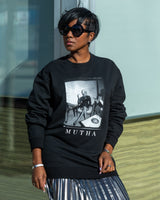 The "NINA" SHIRT
The "NINA" crewneck sweatshirt is made with mid-weight fabric that's lined with fleece. Perfect for wearing solo or layered with our bling collar. Style it over a fun dress, a pleated skirt or jeans! This crewneck is made with superb cotton, quality construction and a design that's timeless.
ADD TO CART
A WARDROBE ESSENTIAL
MUTHA ESSENTIAL DENIM BASEBALL CAP
CUSTOMER TESTIMONY**** I love this denim hat! The hat is a great material and really nice for a casual but chic LOOK!
-ASHLEY
Testimonials
I absolutely love my new sweater, it's soft and has a sexy fit. The turn around was quick after I purchased it. IT'S definitely a conversation shirt.


Carmesha Smith
Rouge Sweatshirt! I bought this sweatshirt which i love. The quality of material is nice.

Alis "Damaris"
Super comfortable and absolutely amazing piece. Definitely something different and a conversation piece. I got a medium and I like how it's a nice slim fit without being too tight


Maya Castleberry
When Art Meets Fashion
Hand Painted hoodie with abstract brush designs with bold pops of colors.
ON DISPLAY